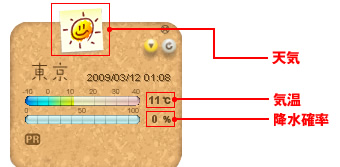 Jpon merupakan antara negara yang terkenal dengan cuaca yang x menentu.. Kalo tgk ramalan kaji cuaca diorang kt tv, ayat yg diorang gunakan sentiasa diakhiri dengan perkataan "... mungkin~" atau yg sewaktu dengan nyer; sebab tuh rakyat diorang seronok kalo nk bukak citer pasal cuaca kot= Kalo dulu, ak rajin giler bukak
yahoo japan
ntk usha ramalan cuaca setiap hari dan mingguan sebagai persediaan.. Kadang2 yahoo japan jer x cukup, ak bukak skali laman web
weathernews
ntk dapatkan lebih kepastian.. Skang nih kt desktop ak ada widget khas ntk ramalan cuaca harian bagi memudahkan urusan~ Bagi sesiapa yang berminat, leh dapatkan melalui laman web
nih
~ Kebanyakan laman web kaji cuaca terutama nyer yahoo turut menerima maklum balas orang ramai pada 'real-time' bg menambahkan ketepatan ramalan kaji cuaca tersebut.. Kalo zaman pak kadok dulu2, antara kaedah yang digunakan ntk kaji ramalan cuaca ialah menggunakan haiwan! Berikut pemerhatian pakar2 alamiah yg dikumpul dalam sebuah buku Weather Lore: A Collection of Proverbs Sayings and Rules Concerning the Weather karya Richard Inwards pertama kali diterbitkan pada tahun 1893.
Bila binatang akan berkumpul, petanda hujan akan turun
Apabila kucing bersin, tanda hujan akan turun
Bila kuda memanjangkan lehernya dan menghidu udara, hujan akan menyusul
Bila keldai meringkik, petanda hari itu akan hujan
Jika kelawar berbunyi dan terbang ke dalam umah, hari akan hujan
Di barat, apabila ayam Belanda yg bertenggek di atas pokok dan x mau turun menandakan salji akan turun
3 @ 4 ekor burung murai yg terbang bersama2 dan mengeluarkan bunyi yg kuat petanda cuaca berangin
Ikan lumba2 timbul di pelabuhan menandakan ribut akan melanda
Buih udara keluar pada kepah menandakan hujan akan turun
Bila cacing kalimantang bercahaya, cuaca panas dan kering akan meyusul
Lebih kuat bunyi katak, lebih banyak hujan akan turun
Penyengat membina sarang di tempat terbuka menandakan musim panas telah tiba
Apabila labah2 bekerja keras dan memintal sarang petanda angin kencang bakal bertiup. Labah2 x leh memintal ketika angin mula bertiup
Lalat hinggap di hidung anda, kemudian menepis dan lari. Jika lalat tuh datang lagi, itu petanda hujan rahmat bakal turun!
Sumber : Mastika April 2010
p/s Orang Jpon suka bela ikan emas kerana konon nyer bila ikan emas tuh terlompat2 dalam akuarium, tuh petanda gempa bumi akan muncul x lama lagi.. WALLAHUA'LAM=